reprint from Menzner Hardwoods.com written by Mikkalyn Hafner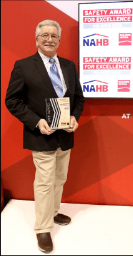 Menzner Hardwoods Co. was awarded the 16th annual NAHB/Builders Mutual Insurance Company Safety Award for Excellence (SAFE) at the NAHB International Builders' Show held on February 8th - 10th in Orlando, Florida. This national award is presented to companies that have shown exemplary achievements through their safety program over the past year.  Winning this award is a true testament to the dedication and passion the entire Menzner Hardwoods team has for health and safety.
"Winning this award is a major accomplishment for Menzner Hardwoods" says Menzner Hardwoods' Director of Safety, Jeff Smith. "This wouldn't have been possible without the efforts of our entire team."
From production employees, to managers, to executives, to contractors, everyone at the company is expected to have a safety mindset.
This, says Smith, is what sets Menzner Hardwoods a part. "The key to having an award-winning safety program is employee participation and integrating safety into the culture of the company. From day one of employment, all team members go through orientation and are educated on potential safety hazards and how to avoid them."
One of the most notable safety procedures in place at Menzner Hardwoods is their Safety Clothing program. Yellow vests are worn by employees until 60 days after hire.
"The yellow vests help team members recognize new employees. It is a way to alert others that this individual is a new member of the team and may need more coaching" says Smith. Once an employee has successfully completed 60 days of employment, they are issued blue safety shirts with the slogan Think Smart Before You Start. This slogan was chosen by employees. It is a reminder to make safety a top priority.
In addition, all contractors and outside vendors as well as non-manufacturing employees are required to wear florescent orange vests while on the manufacturing floor.